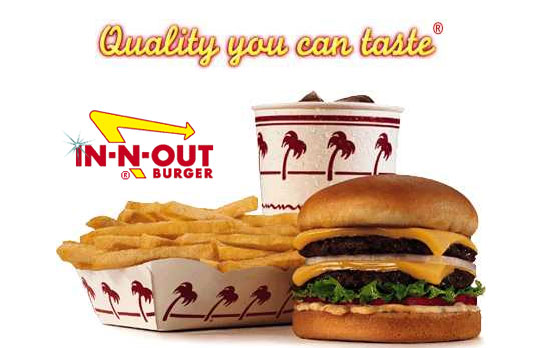 So it's probably no surprise to anyone that knows me that I'm a huge fan of In-N-Out Burger. In the interest of providing more info about them, I'm posting this stuff up here for everyone's benefit. The secret menu and bible verses are what's here and if you want to know anything else, check out the official In-N-Out site.

Below is the Customer Service response from In-n-Out Burger regarding their "secret menu"

Dear Mr. XXXXX:

Thank you for your e-mail, and for your interest in In-N-Out Burger.  In response to your question, we have several commonly requested burger styles, such as Animal style which do not appear on our menu. As you may know, our Animal style burgers come with lettuce, tomato, extra spread, pickles, grilled onions, and mustard fried into the patty. We also offer Protein style burgers, for which we wrap the burger in large leaves of lettuce instead of placing it on a bun.

In addition, we have commonly requested burgers that are not on our menu. These burgers include the Wish burger, the Grilled Cheese burger, the Double-Meat, and the 3×3. The Wish burger is similar to a hamburger but does not contain the meat. The Grilled Cheese burger is similar to the Wish burger, but adds two slices of melted cheese. The Double-Meat is similar to the Double-Double in that it has two meat patties, but it does not have cheese. The 3×3 burger is a burger with three meat patties and three slices of cheese, and you can add meat patties and
slices of cheese to make a 4×4, 5×5, etc.

Again, although these styles and burgers are not on the menu, you can order them at all our locations.

Thank you again for contacting us.

Sincerely,
Cristina Minchala

Customer Service Representative

October 14, 2001


The In-N-Out
Burger in San Francisco is finally open! Here's my first meal there…
---
SECRET MENU
Here's the listing of how to order like a pro. My personal choice? "Double-Double® Animal style, no pickles" (Note: As of 2009, I've tried to make a "genex style" = Animal Style, no pickle, but add raw onions)



"Animal Style" – bun is grilled with mustard, sauteed onions instead of raw, pickles, extra "special sauce" – [this can also be applied to fries (Note: I recently tried this on fries, but don't personally recommend it / Nov. 2, 2003)]
"Wish Burger" – no meat, i.e. veggie burger


"Protein Style" – lettuce wrapped around the burger instead of a bun for all of you who are in "The Zone"


Update 12/23/2003 – there is no such thing as "Old Fashioned Style" – originally I had this listed as "ketchup and mustard instead of the weird special sauce" but that is incorrect as a call from In-n-Out
today revealed.


"Flying Dutchman" – two meat patties with two slices of cheese. that's it.


"Double Meat" – Double Double without cheese


"4×4" – 4 meat patties with 4 slices of cheese. Are you SURE you can eat that?


"2×4" – 2 meat patties with 4 slices of cheese for the fromage afficionado

"Grilled Cheese" – cheeseburger, sans meat


"Fries – well done" – get your fries extra crispy and brown the way you like them!


"Choco-Vanilla Swirl Shake" – just what it sounds like Note: this is not an official secrent menu
item, but at most In-n-Out Burgers they will make it if asked for… 12/23/2003


"Neopolitan Shake" – a blend of chocolate, vanilla and strawberry shakes.
---
BIBLE PHRASES
Ever wonder what the little bible quotes sneakily hidden on the In-N-Out paper packaging mean? Ever wonder if they have anything to do with the fact that only blonde children work here? Let's investigate:
REVELATION 3:20 (burger and cheeseburger wrappers): Behold, Istand at the door, and knock: if any man hear my voice, and open the door, I will come in to him, and will sup with him, and he with me.
JOHN 3:16 (soda cups): For God so loved the world that he gave his only Son, that whoever believes in him should not perish but have eternal life.
PROVERBS 3:5 (milkshake cups): Trust in the Lord with all thine heart; and lean not unto thine own understanding. (thanks to Robin Wright for the correction)
NAHUM 1:7 (Double-Double wrapper): The LORD is good, a stronghold in the day of trouble; he knows those who take refuge in him.
Some of this content was stolen from yumfood.net