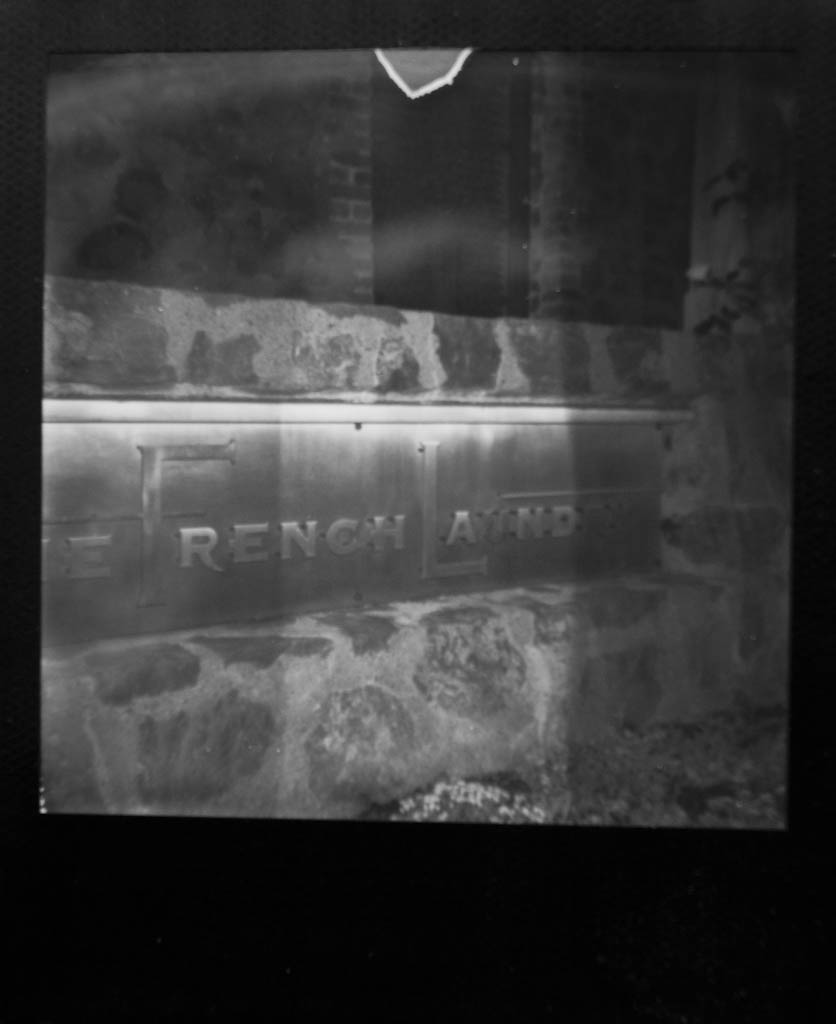 As posted to Yelp:
I was actually joking about if people would actually look at Yelp to consider eating at The French Laundry, but I'm mostly writing this review so I don't have to explain my experience to everyone over and over and twitter isn't the right place for it…
Anyhow, I went with Andrei Z., Melanie N. and Scott McV last night and it was definitely as good as expected.  It's hard not to have expectations but they were all met.
On to the blow by blow…
Our first amuse bouche looked to me like an ice cream cone scarecrow and one of the servers said it was inspired by Baskin Robbins of all places.  I forgot what it was called but like everything would be this evening, it packed flavor and texture and taste all in one tiny cone.
Course 1 "OYSTERS AND PEARLS"
"Sabayon" of Pearl Tapioca with Island Creek Oysters and White Sturgeon Caviar – wow this was tiny, was my first thought to myself, but upon spooning in the first micro-spoonful into my mouth, I realized why – it's amazingly rich and flavorful!  The tapioca was so rich and the flavors all balanced so well.  A good start for sure!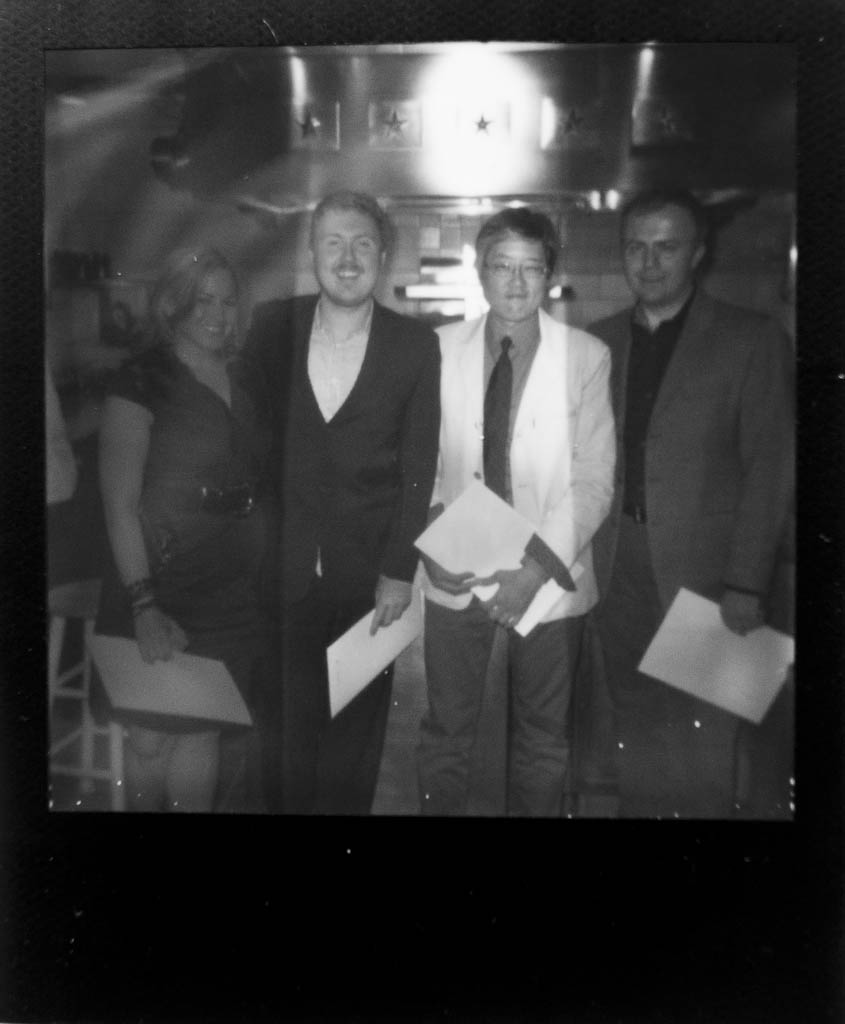 Next up we all had selected the foie gras which was paired with Von Strasser 2010 Grüner Veltliner.
MOULARD DUCK "FOIE GRAS EN TERRINE"  – "Gésiers de Canard," Poached Cherries, Pearl Onions, Watercress and "Sauce Hydromel"
What can you say?  It was so rich and paired with some crazy salts and decadent bread from Bouchon (the Jurrasic salt we absconded with a pinch for our friend Tim V).  Just eat this! (before July 1st, 2012)
SAUTÉED FILLET OF GULF COAST RED SNAPPER:  Monterey Bay Squid, San Marzano Tomato, Fennel, Garlic, Castelvetrano Olives and Basil
This was light in texture, but nicely complimented by the garlic slice and was quickly consumed 🙂
SWEET  BUTTER-POACHED MAINE LOBSTER TAIL: Globe Artichokes, Broccolini, Spanish Capers, Parsley Shoots and Burnt Orange
– gotta say that I was really excited about this one since I love lobster.  However I'd say this was the least amazing dish of the night.  It wasn't necessarily bad but the lobster by itself was just OK.  With the burnt orange sauce it was more enjoyable but it didn't blow me away…
WOLFE RANCH WHITE QUAIL: "Hoe Cake," Pickled Green Tomato, Tokyo Turnips and "Thousand Island Dressing"
– gotta say this might have been my favorite.  I mean you gotta like "hoe cake!" but really it was just so perfectly prepared.  The skin was perfectly crunchy, while the quail meat was tender and juicy.  Love this!
SNAKE RIVER FARMS "CALOTTE DE BŒUF GRILLÉE"   – Braised Brisket, "Pommes à la Florentine," Nantes Carrots, Arrowleaf Spinach and "Sauce Bordelaise"
– I loved that our server told us this would be prepared medium rare without any other discussion.  When it came out I saw the lovely red and upon slicing in saw that it was prepared just right.  So delicious, juicy and flavor packed.  I think I ate this the slowest just to savor every bite!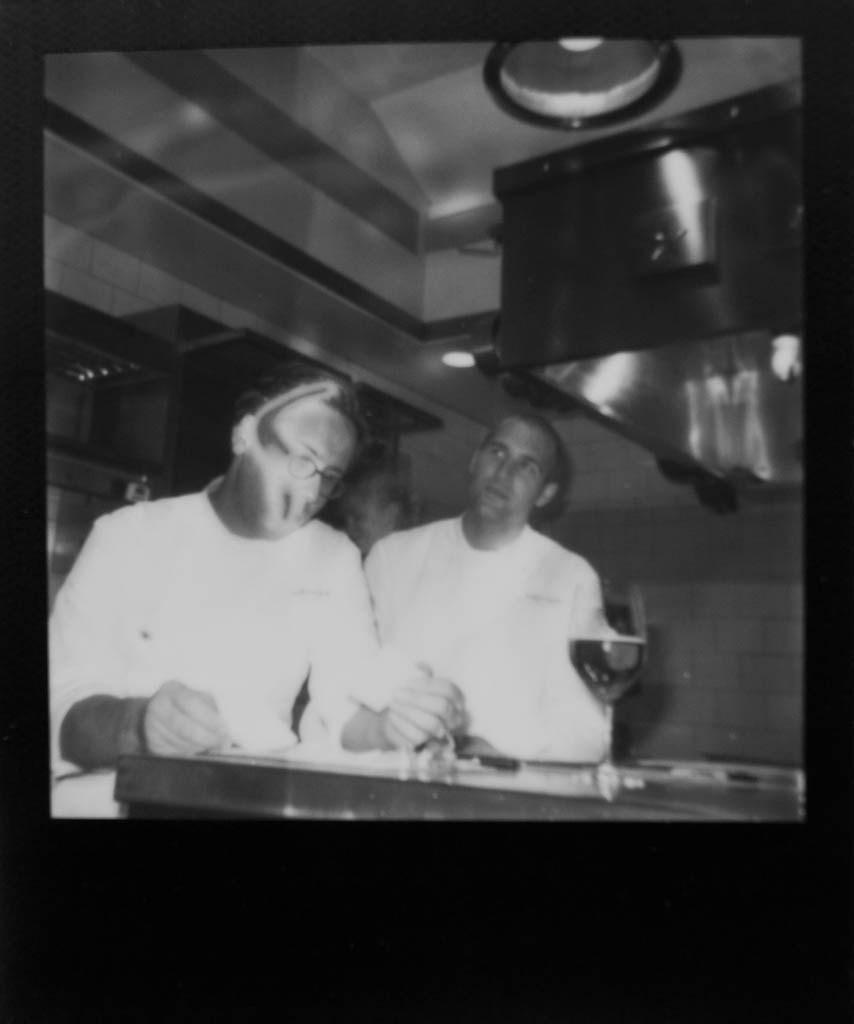 The next few dishes were coming and I was getting pretty damn full.  First up was:
MEADOW CREEK DAIRY "GRAYSON" – Hobbs' Bacon, "Lavash," Granny Smith Apple, Savoy Cabbage and Whole Grain Mustard
followed by
RUBY RED GRAPEFRUIT SORBET – Moscato "Gelée" and Verbena "Nuage"
The sorbet was awesome and super tart which I loved but it was almost too much so.  This was a dish that you definitely had to mix up the ingredients and get a bit of each in every bite to balance it out.  I love tart and sour food so this was a nice prep for the final dessert dish…
I opted for the " MARJOLAINE"  – Praline Mousse, "Dacquoise" and Roasted Banana Sherbet
The mousse portion was so rich and I was barely able to finish, but powered through knowing that we had 'donuts and coffee' coming to wrap things up.  The 'coffee' was more a mousse style that was incredibly rich and you could dip the 'donuts' in which arrived warm and doughy.  If I wasn't so full at this point I wouldn't have left the one extra but damn I was stuffed.
An amazing meal and experience! Aomething I'll always remember and I definitely would love to return with my sister who would so appreciate it (not that anyone else wouldn't).